Ange Swana
Ange Swana is a national of DR Congo. She was born in 1987, in Giseni, Rwanda, where her father holds a diplomatic posting.
She then spent her childhood between Rwanda and Goma, the capital of North Kivu in eastern DRC. This region has been a zone of tension for decades and has witnessed geo-political, socio-cultural and economic conflicts, involving, in particular the exploitation of rare minerals such as Coltan (used for the manufacture of electronic and high-tech goods - cellphones, computers and tablets, etc.). This conflict culminated in the civil war that raged in Rwanda from 1992 to 1994 - one of the deadliest in the late 20th century Hutus and Tutsis opposed on the question of the authenticity of their origins which lead to the massacre of more than 600,000 people. Ange and her family then left to resettle in Kinshasa, leaving behind a dark and chaotic landscape of what had been their nest of birth. In Kinshasa, Ange pursued her primary and secondary education at Lycée Sainte Germaine, with a major in Latin literature and philosophy.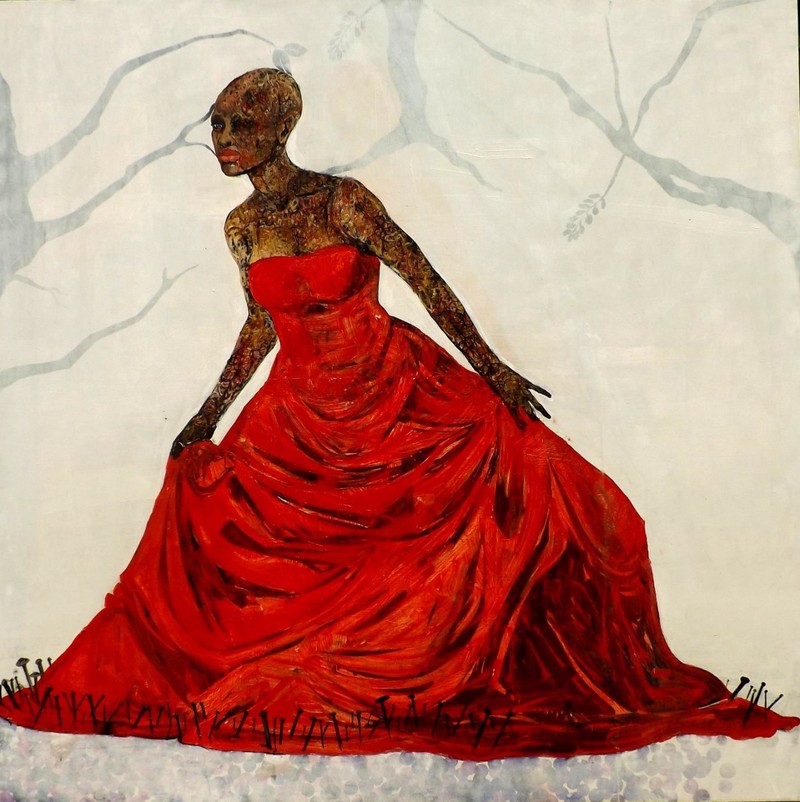 2019
Exhibition "On Balance", Woman, Wine and Words Festival, Harare, Zimbabwe.
Exhibition at Africa Night Festival", Alter schlachthof, Eupen, Belgium
Exhibition " AFRO, rencontre avec une Afrique contemporaine ", Levallois, France and Au Festival Africa Nitgh "
2018
Exhibition " woman power ", BANDJOUN STATION, Bandjoun, Cameroun
Also Knows as Africa foire (AKAA)", Paris, France
Exhibition " Féminité ", fondation Blachère, Apt, France
"Sommerausstellung ", ARTCO Gallery, Aachen, Germany
2017
Exhibition "CONGO AM RHEIN", world fair for contemporary art, Basel, Switzerland
Exhibition and auction "KAMPALA ART AUCTION" Uganda's 2nd annual major modern and contemporary art auction in east Africa; Kampala, Uganda
2016
FNB JOBURG ART FAIR exhibition, Johannesburg, RSA
"EROTICISM AND INTIMACY, FACES, PLACES & PATHS" exhibition, Kampala, Uganda
2015
"Dakar, a laboratory of contemporary art? ", foundation J.P. Blachère, Apt, France
Exhibition "courant d'art" at the Trust Merchant Bank (TMB), Kinshasa
Exhibition "ENTRE DEUX RIVES" at the Institut Français de Kinshasa, Kinshasa; DRC
2014
Exhibition at the Jardin de Lilas "YANGO OFF" 1st biennial of Kinshasa, Kinshasa; DRC
Exhibition " CONGO(S), Off de la biennale de Dak'art, Dakar, Senega
Exhibition " LADY BY LADY " at KAS PROJECT/Kin ART Studio, Kinshasa
Exhibition at the opening of the International Francophone Women Fair, 2nd edition 2014, Kinshasa ;
2013
Exhibition and restitution of the Master art/ Kin Art Studio workshops, Kinshasa
Exhibition at the GONGO Gallery, Brazzaville, Congo
2012
Restitution and Exhibition of the opening of the SAHM workshops at the French Institute of Congo, Brazzaville
Exhibition 'one billion rising/Vday, international day against violence against women, Kinshasa; – Exhibition of the opening of the SAHM workshops, Brazzaville
2011
Exhibition MOOV à Kin at the Wallonie Bruxelles internationale centre, Kinshasa
2011: Exhibition 'Transmutation' 6è sens, Kinshasa