Damilola Opedun
Damilola Opedun is a visual artist based in Lagos, Nigeria. He studied Art and Design at the prestigious Auchi Polytechnic in Edo state, and in 2010 graduated with a Higher National Diploma in Painting as best graduating student.
His current body of works is an investigation into the human emotion and its manifestations in our contemporary world.
It is a hybrid of the human figure which investigates and recognizes social media symbols that represent various human emotions, sometimes disfigured forms – albeit with recognizable features.
He works on canvas, using oil pigments to create circular shapes of the internet emojis and smileys with a realistic rendering of the human features.
Damilola Opedun  juxtaposes contemporary and futuristic times (expressed through social media emojis) and times past (expressed through centuries-old clothing). The fusion represents varying views of the past and anticipation of what lies ahead.
Being raised by a single mother, who was at the time going through a severe marital problem, and because of the separation between his parents, he had to go through serious emotional issues while growing up, he was painfully shy, fearful and timid and those are all negative emotions.
From his Christian background, he discovered from the Bible that God expresses emotions and also know that humans were created with emotions, but his were out of control. It was his quest for emotional stability that led him into an inquiry about the human emotion using art as vehicle.
"I hope not only to scour the human emotions in search of what drives them towards a specific direction but also evaluate the impact of social validation on people's lives".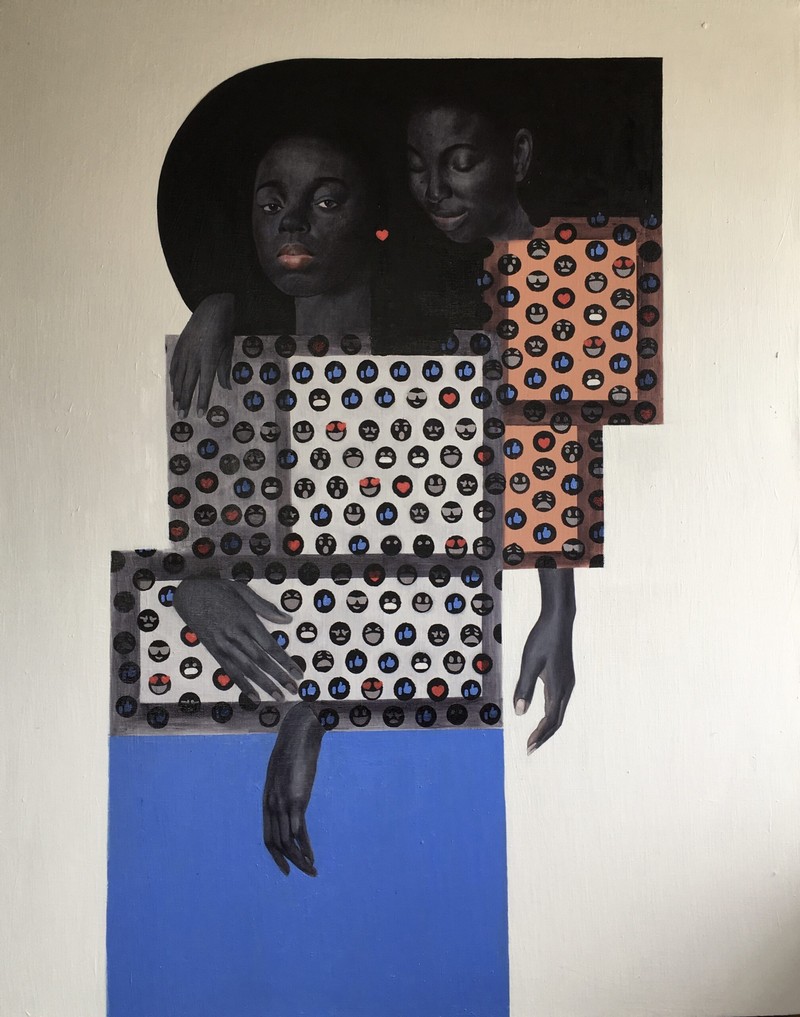 2021- Awakening by Chilling Art Projects, London.
2021- Makovenice, a trans dimensional vision, Signature Beyond Gallery, Lagos
2021- Human Emotions, by Signature Beyond Gallery, London.
2018-Generations Art Exhibition (the future masters Series) by Mydrim Gallery, Lagos, Nigeria.
2017- Enduring Brilliance, 45th Annual Exhibition of The Pastel Society of America.
2017- Generations Art Exhibition (the future masters Series) by Mydrim Gallery, Lagos, Nigeria
2016- Fate III, the 3rd edition of a group show  put together by Alexi's Gallery, Lagos, Nigeria.
2016 – The Cyber Art Show by Keith Linwood Stover.www.thecyberartshow.com
2016 – Lagos Living And Working Exhibition by Indigo Arya.
2015 – Mydrim Gallery, 15th Annual Pastel Exhibition
2015 – Oreze III (The King's Crowd), Onitsha.
Exhibition in Honor of His Royal Majesty, Obi of Onitsha.
2013 – "Illumination" Nimbus Gallery, Lagos. A Group Exhibition by the Ingenious Minds.
2008 – "The Creative Minds" The Harmattan Workshop Gallery, Victoria Island Lagos.