Ebenezer Akinola | Artist
Ebenezer Samuel Akinola was born in Ibadan on the 1st of December 1968. He earned a Bachelor's Degree in painting from the University of Benin in 1989.
In his works, Ebenezer elevates black culture, engages/challenges notions of race, gender, beauty, identity and contemporary African politics and spirituality.
Portraits and figures studies form a special part of Akinola's oeuvre. He skillfully achieves a balance of realistic and abstract passages in his work, adding further depth with smaller, finer details to accentuate areas of interest.
He has received several important commissions including portraits of former Nigerian leaders Nnamdi Azikwe, Abdulsalami Abubakar and Olusegun Obasanjo, which are displayed at the National Gallery of Art, Lagos. He has participated in several exhibitions in Nigeria and internationally.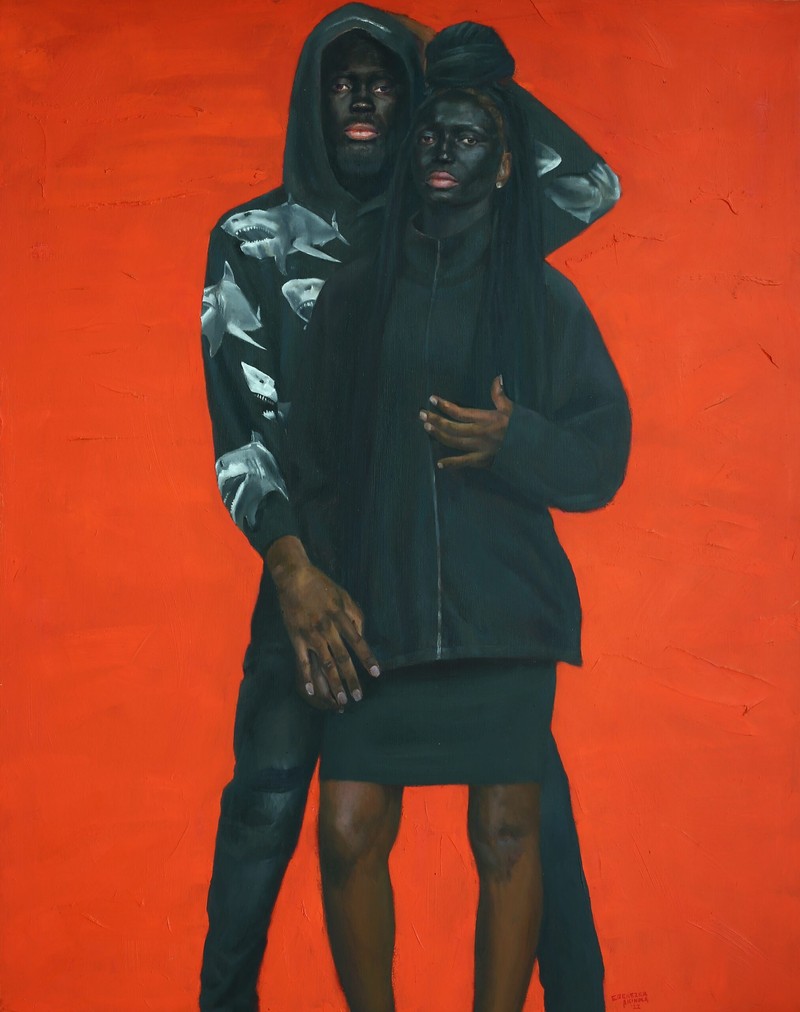 BLOOM GALLERY  V.I. LAGOS – SOLO EXHIBITION, Nigeria. 2021
THE GOOD WORK, Color Me Africa Fine Art, Chicago. Ebenezer Akinola and Mbeng Pouka. 2020
THE NIGERIAN CONNECTION. Gallery Guichard, Chicago. 2019
WHERE DO WE GO FROM HERE. Omenka Gallery, Lagos – SOLO EXHIBITION  2017
THE GENESIS, Ovie Brume Foundation. Lagos. 2016
TRANSCENDING BOUNDARIES,  ABRU ART  LONDON, U.K. 2015
METAL FACES AND COCKS. SIGNATURE BEYOND. LAGOS , NIGERIA. 2014
LASTING IMPRESSIONS (SOLO). SIGNATURE BEYOND. LAGOS NIGERIA. 2010
STEPPING INTO UNIVERSALITY, UNIVERSAL STUDIOS OF ART LAGOS, NIGERIA. 2009
THE FIRST NIGERIA GICLEE EXHIBITION, HUE CONCEPT/TERRACULTURE, LAGOS NIGERIA. 2008
MINIATURE ART FAIR, FRAMEMASTER, LAGOS NIGERIA. 2007
NATIONAL BLACK ART FAIR, NEW YORK CITY, USA. 2006
AKINOLA EBENEZER AND BUCK BROWN, NICOLE GALLERY, CHICAGO, USA. 2004.
DECOR EXPO ATLANTA, GEORGIA, USA. 2003
RECENT PAINTINGS , STEELELIFE GALLERY, CHICAGO – SOLO EXHIBITION  2003
TRILOGY, AKINOLA EBENEZER, ALICE GATEWOOD-WADELL AND CAROL VANTERPOOL – NICOLE GALLERY CHICAGO, IL. USA. 1998
LIFE: SLICES AND SPICES,  DIDI MUSEUM LAGOS, NIGERIA –  SOLO EXHIBITION, 1996
HUMAN SUFFERING AND ENVIRONMENTAL DEGTADATION, NATIONAL GALLERY OF ART/AFRICAN REFUGEES FOUNDATION, ABUJA, NIGERIA. 1995.
ALLIANCE FRANCAISE IBADAN, NIGERIA. 1991
Special Commissions
PORTRAIT OF PRESIDENT NNAMDI AZIKWE – National art gallery, Nigeria
PORTRAIT OF PRESIDENT ABDULSALAMI ABUBAKAR – National art gallery, Nigeria
PORTRAIT OF PRESIDENT OLUSEGUN OBASANJO. – National art gallery, Nigeria.