Cinthia Sifa Mulanga – Masculine Traits I

, 2021
Artist Statement:
My work explores beauty constructs through my lived experience as an African woman and those around me. I create moments within domestic spaces by using different mediums like acrylic with oil paint, charcoal, ink, collage from personal photographs and magazines. Female silhouettes represent the "perfect women " perceived by society through social media. The moments I create in domestic spaces are dialogues between perceived beauty standards, and stereotypes which function to both challenge and embrace African women. The Barbie doll, a primary inspiration in my work, is used with other feminine objects or symbols with associations to African women, representing thoughts, misconceptions, perceptions and emotions. These spaces allow me to create conversations and interrogate notions of beauty.
The MASCULINE TRAITS series is about the black woman occupying typically male-dominated spaces, positions and status. Inequality has led women over the years to compete with men in different industries, and when they dare to elevate themselves, they are labelled as arrogant, ambitious, successful, intimidating (as if that is a bad thing) and too daring. In this series, I have created various spaces that I see as male-dominated. They are filled with typically masculine objects such as cars, whiskey, prestigious artworks, awards, the signs of being a business and property owner, a distinctly masculine aesthetic in the furniture. The women within these spaces challenge these ideologies and  constructs, as they are soft, affirmative, nurturing, warm, daring and ever-changing.
Enquiry for Cinthia Sifa Mulanga – Masculine Traits I, 2021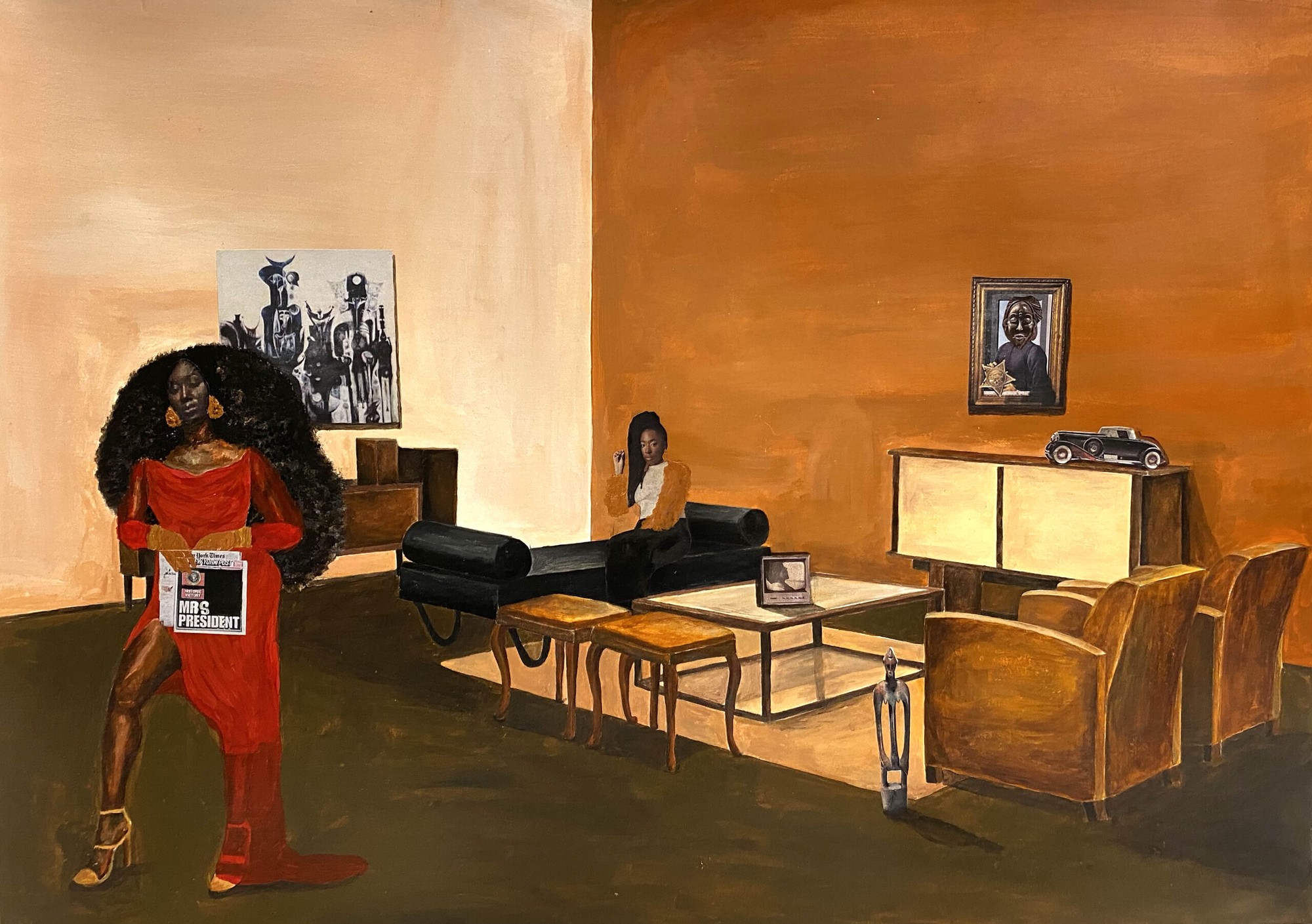 Cinthia Sifa Mulanga – Masculine Traits I Figures - 2021
50 x 70 cm
Acrylic and oil paint, charcoal, collage on paper