Amadou Opa Bathily – L'Espoir derrière l'autre côté du mur II

, 2023
Whether it is light or noise, we are surrounded by moving particles. The impressionist painters interpreted it in this way. And so did music composers. A mosaic of sounds, diffuse, sharp flashes, glittering flakes in a breath.
The Malian painter Amadou Opa Bathily works in a similar way, with a sensitivity and fragility of the moment, of the people who live in it and of their destiny too.
Opa Bathily focuses on ordinary everyday life. He does not make the moment sacred. One of his paintings is entitled "Diplomacy at the corner of the street". Two men are in conversation, a teenager is near them, but he does not take part in the discussion. What is it about? An ordinary thing. What is this man, sitting on a step, visibly downcast, thinking about? The everyday! The abysmal question of what will happen next.
A graduate of the National Institute of Arts (INA) and the Conservatoire des Arts et Métiers (CAMM-BFK) in Bamako, Amadou Opa Bathily followed the usual curriculum for Malian artists. He worked in the Miria workshop at a very young age and has been perfecting his technique with recycled materials ever since.
This know-how is remarkable when it comes to metal. His assemblies, the proximity he maintains with plastic and fabric, give his compositions the lightness of a veil. We are surrounded by crumpling, and all the materials participate in this state of sound and light mosaic. Their fragility and their poetry are there, in the meaning they carry.
Enquiry for Amadou Opa Bathily – L'Espoir derrière l'autre côté du mur II, 2023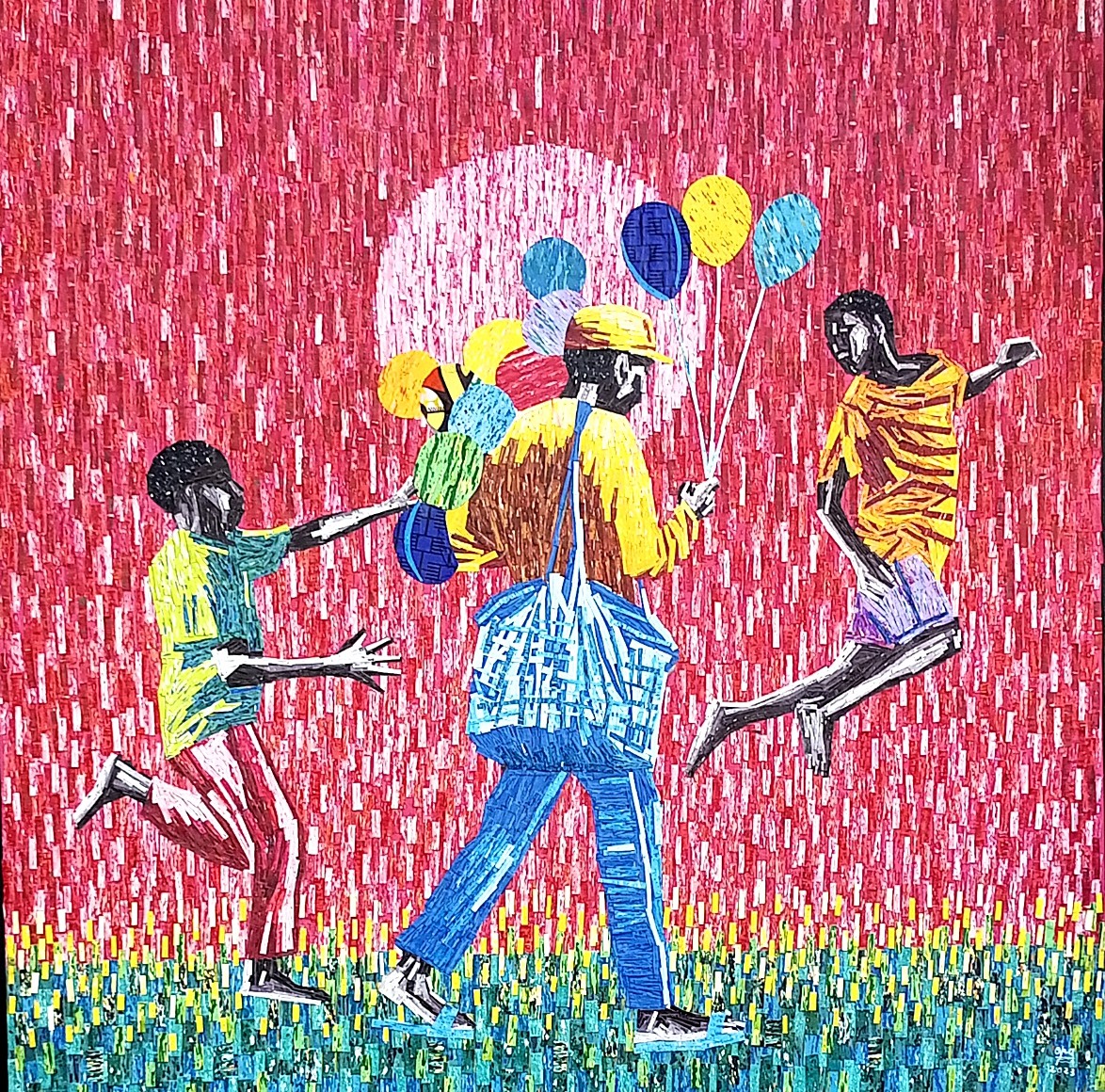 Amadou Opa Bathily – L'Espoir derrière l'autre côté du mur II Figures - 2023
90 x 90 cm
Painted fabrics on canvas