Cinthia Sifa Mulanga – Pressure of bold women

, 2021
Artist Statement:
My work explores beauty constructs through my lived experience as an African woman and those around me. I create moments within domestic spaces by using different mediums like acrylic with oil paint, charcoal, ink, collage from personal photographs and magazines. Female silhouettes represent the "perfect women " perceived by society through social media. The moments I create in domestic spaces are dialogues between perceived beauty standards, and stereotypes which function to both challenge and embrace African women. The Barbie doll, a primary inspiration in my work, is used with other feminine objects or symbols with associations to African women, representing thoughts, misconceptions, perceptions and emotions. These spaces allow me to create conversations and interrogate notions of beauty.
The COMPETITIVE SISTERHOOD works were created in relation to my MASCULINE TRAITS series. The patriarchal perceptions, standards and expectations placed on black women by society have long affected how we see, treat and feel about ourselves and each other. In this series I have referenced my childhood memories. In one work you'll see a doll playing with another multifaceted doll in what looks like a beauty salon, in another, a scene of playing dress-up with mom's wigs and make-up. In another scene, a doll we used to create from fabric materials and finally a group of four girls playing one of the most popular games from my childhood, called 'washisha'. I have used these memories as metaphors to highlight how, from childhood, intimate, innocent moments can be made to feel competitive, when they shouldn't be.
Enquiry for Cinthia Sifa Mulanga – Pressure of bold women, 2021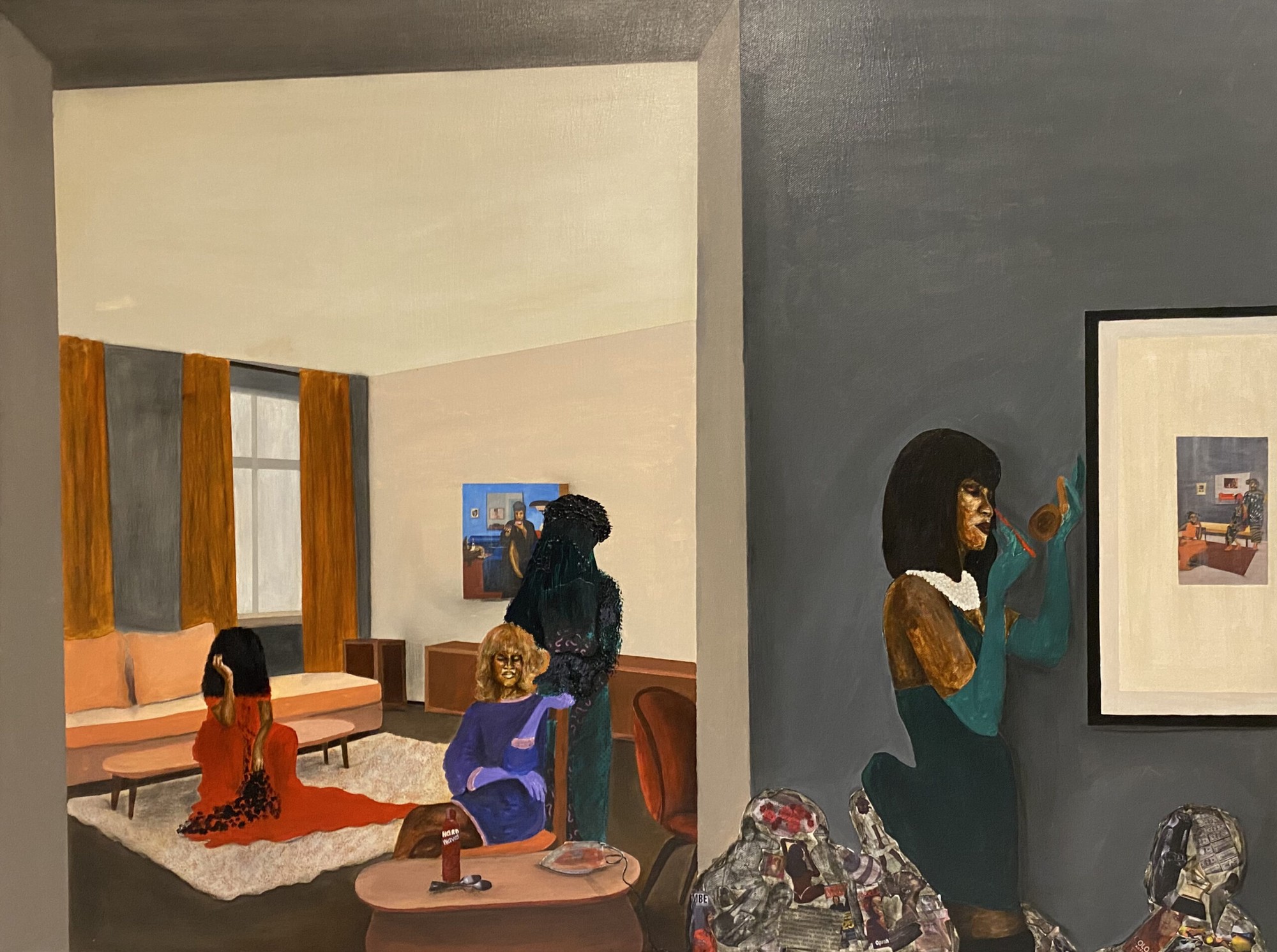 Cinthia Sifa Mulanga – Pressure of bold women Figures - 2021
76 x 101 cm
Mixed media on canvas