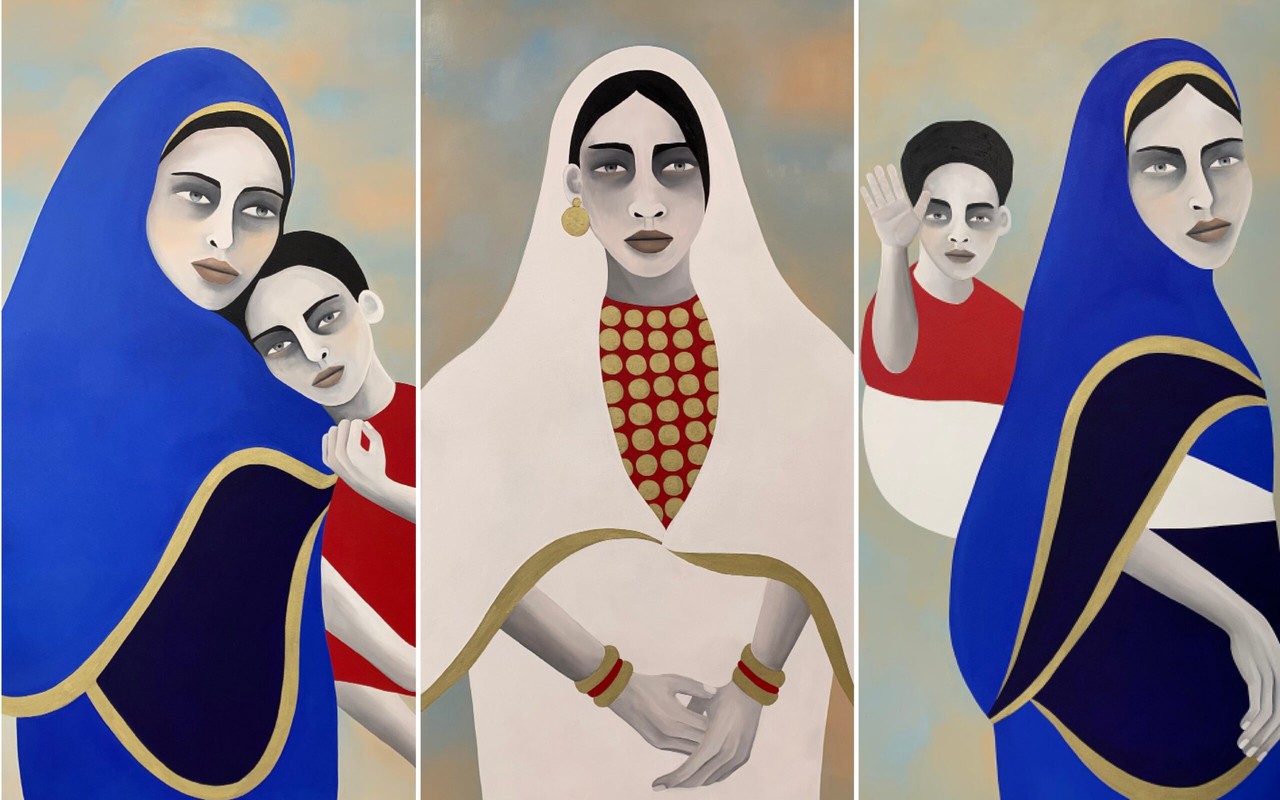 L'Avenir est au Passé
Place
Casablanca, Casablanca-Settat, Morocco
Place
Casablanca, Casablanca-Settat, Morocco
About
L'Avenir au Passé " exhibition brings together three painters, each of whom retraces paths to another era. Amina Azreg, Rahma Lhoussig, and Rebecca Brodskis explore themes from a distant past, touching upon the details of childhood, vintage atmospheres, and far corners of conscious and unconscious memory.
Rebecca Brodskis follows in the footsteps of her grandmother, also a painter, who was tasked by the Ministry of Culture to create an art school in Rabat during the 50's to train generations of major Moroccan artists (Mohamed Kacimi, Miloud Labied…). This exceptional woman became a source of inspiration for Brodskis, whose recent works explore this powerful influence as well as childhood memories of a benevolent Morocco. Her tender oil portraits reveal Amazigh matriarchs, women-philosophers, loving mothers. The spectacular triptych, D'une Rive à l'Autre (Between Shores), speaks to us of her comings and goings between two cultures (France/Morocco), and of her gentle certainty that we are all, indeed, exceptional.
Rahma Lhoussig's works feature a protagonist who seems to float against flat pastel grounds, anchored by islands of detail: balloons, discarded objects, stuffed bears and live birds. She exists in a state of imagination that evokes adolescent reverie as well as a sort of in camera Wonderland, where one might speak to an invisible friend, or share a bit of cake with a stork. Areas of the canvas remain undefined, as realism gives way to space—marked here and there with scribbled musings that reveal Lhoussig's fascinating process. She invites the viewer to enter this territory of consciousness/unconsciousness, and the creative mind of a young heroine who observes the world without prejudice.
For Amina Azreg, the destination is inward, toward a series of solitary interiors that combine the studied isolation of Edward Hopper's cityscapes with surrealism, staging oddities in an architecture that speaks of Casablanca. Immaculate spaces seem empty or forgotten, like the traces of last night's dreams. Exquisite details create a sense of drama, setting the stage for something, anything, or nothing at all.
Three young storytellers project the past into the future, and bring memory back to life within these walls.