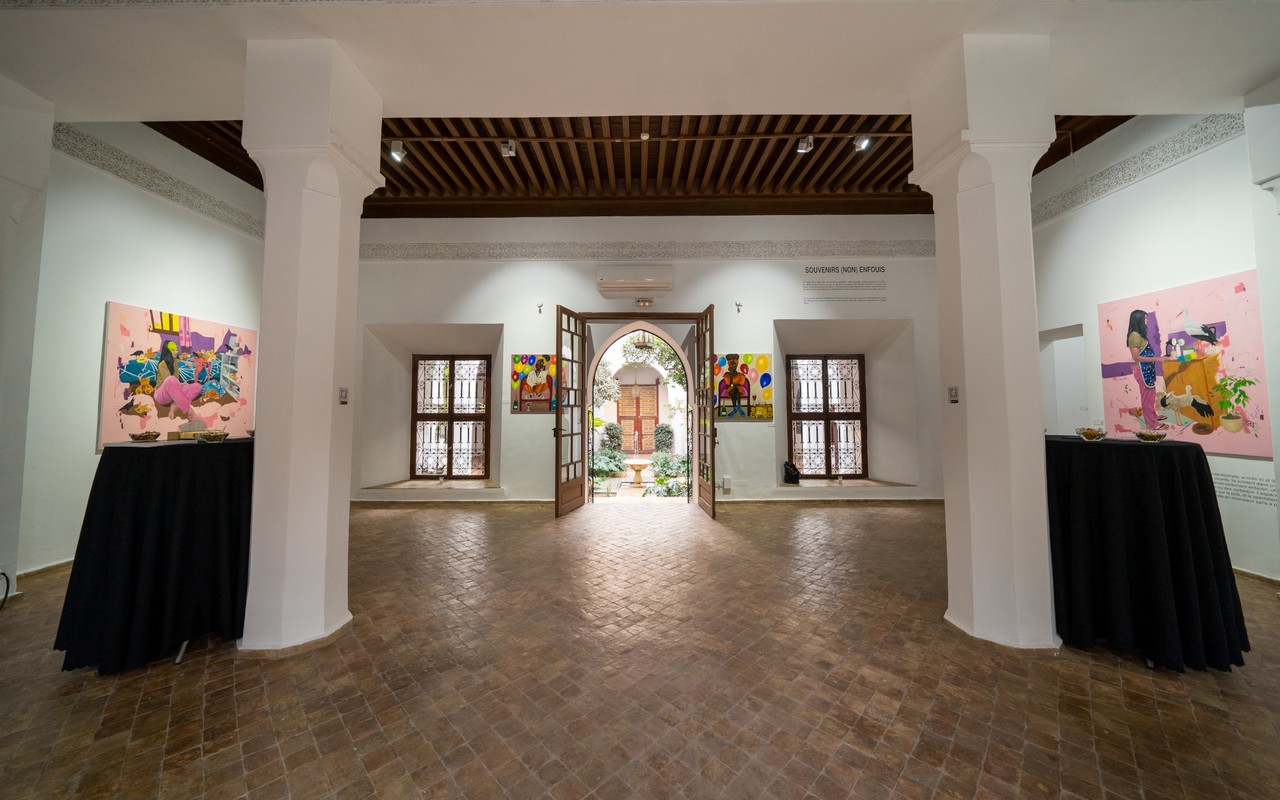 (Un) Buried Memories | 1-54 Marrakech
Place
Dar Moulay Ali - Maison de France - Marrakech
Place
Dar Moulay Ali - Maison de France - Marrakech
About
This exhibition entitled (Un)-Buried Memories deals with the unconscious universes, past and future, that animate the three artists through their childhood and the emotions linked to the perceptions of the physical, historical and familial environment.
At the heart of figuration is narrative, in which the artist becomes a storyteller, or, in the case of Amina Azreg, Rahma Lhoussig, and Sophia Oshodin, they become dreamweavers. These three contemporary African artists assemble images that infuse real-life elements with a sense of another realm, a dream state of memory.
Works by Amina Azreg combine the solitary interiors of Edward Hopper and surrealism, staging oddities in an architecture that speaks of Casablanca. Immaculate spaces seem empty or forgotten, like the traces of last night's dreams. Only a few anonymous humans remain at a reception desk that displays a single word: "soleil", or sun. Here light becomes a subject, whether the "sun" of an overhead fixture, reflection on polished wood or eggshells, a spotlight on a dead egret. Exquisite details - a chrome scale, a wrought-iron balustrade ­- create a sense of drama, setting the stage for something, anything, nothing.
Lhoussig's figures float against intentional flat backgrounds, anchored here and there by discarded clothes, stuffed animals, live birds. They exist in a state of imagination that summons adolescent memories and childlike wonder, offering apples to ostriches, communing with storks, or ravens. The space is unfinished, the realism gives way to child-like marks on the canvas, and the spectator is drawn into the creative mind of a child, understanding the world in pieces without preconception.
Self-taught painter Sophia Oshodin is a born storyteller, casting her works with characters who engage the viewer directly, gazing out from the colour-saturated canvas. Lyrical, romantic, and celebratory, these paintings speak of joy and the desire to share joy. Her female protagonists listen to music or ride their bikes, surrounded by arbitrary objects that also speak of celebration, encouragement, illumination: balloons, lamppost, flowers. The dream of a beautiful life, perhaps, and the courage to embrace their destinies.
Three young African women artists bring memory to life within these walls, each telling her own stories, each evoking their own dreams.